Who are the Stowey Green Spaces Group?
Stowey Green Spaces Group work to enhance and maintain the public green spaces in and around Nether Stowey and Over Stowey.
Our volunteers work on a number of local projects, as well as organising volunteer litter picking.
A vital part of our work is to encourage residents, visitors and local schoolchildren to visit and enjoy our green spaces. And to get involved!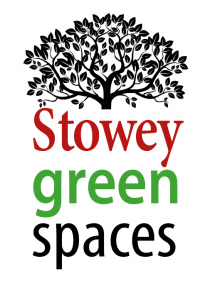 Nether Stowey Recreation Ground
Millennium Wood & Jubilee Woods
Manage the Millennium and Jubilee Woods and Stowey Wood
Clear around the saplings and enhance the verge along the edge of the Bypass Wood and Walk
Plant new trees and replace old ones
Help manage gorse, bracken, and overgrown hedges on the Castle Mount
Run monthly litter picking sessions in Nether Stowey and Over Stowey parishes
Record sightings of local flora and fauna.  Environmental Report
Research the history of our green spaces

We work with other groups including the Quantock Countryside Volunteers, the Taunton Mid-Week Conservation Volunteers, Stowey Walking and the Field Studies Council at Nettlecombe and receive very welcome support from the Quantock AONB, the Parish Councils, the District and County Councils and local private landowners.

Read our annual report.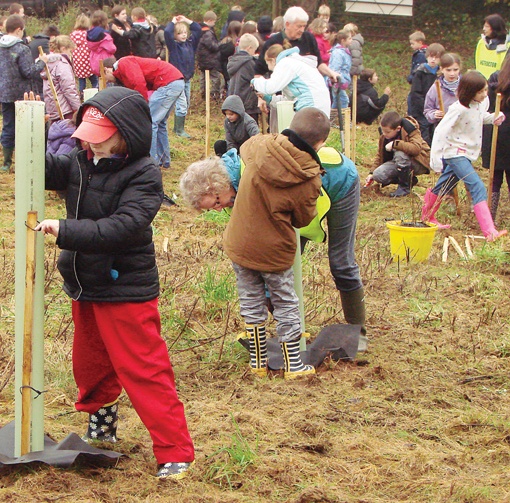 Join us on one of our volunteering days
Why not come along to one of our regular volunteering sessions?  It's always friendly, and not all hard work!  Bring a flask and a sandwich to enjoy during the break.
So, if you are feeling energetic, there are
holes for new trees to be dug
trees to be planted
undergrowth, brambles and weeds to be cleared
footpaths to be kept clear for the enjoyment of walkers
steps and bridges to be fixed
We're a sociable working group, and it's rewarding to know that you're part of a community effort to improve our local countryside – with the added bonus of helping you to keep fit!
Wildlife abounds in our woods and hedges. If you like watching birds Stowey Wood is the ideal place to see woodpeckers, blackcaps, willow warblers and many other species, as well as butterflies and insects.
Our litter picking mornings are popular. You can agree to tidy a street or woodland fringe by collecting litter. We supply bags and litter picking tools.
We are always looking for people with practical skills. And we need volunteers with administrative, office, and computer skills to publicise our work and support our activities. Age is no barrier, and children under appropriate supervision are welcome to join us in suitable activities.
We hope to see you soon!  Please email stoweygreenspaces@stowey.org.uk
Nether Stowey Recreation Ground
Although primarily a place for sporting activities and for children to let off steam on swings and slides, the Recreation Ground is also a place for walking and quiet contemplation of the countryside and its wildlife. The open grassland, hedges, trees and distant views across farmland to the hills combine to create a stimulating landscape for all to explore.
The Recreation Ground is managed by the Nether Stowey Village Hall & Recreation Ground Charitable Incorporated Organisation.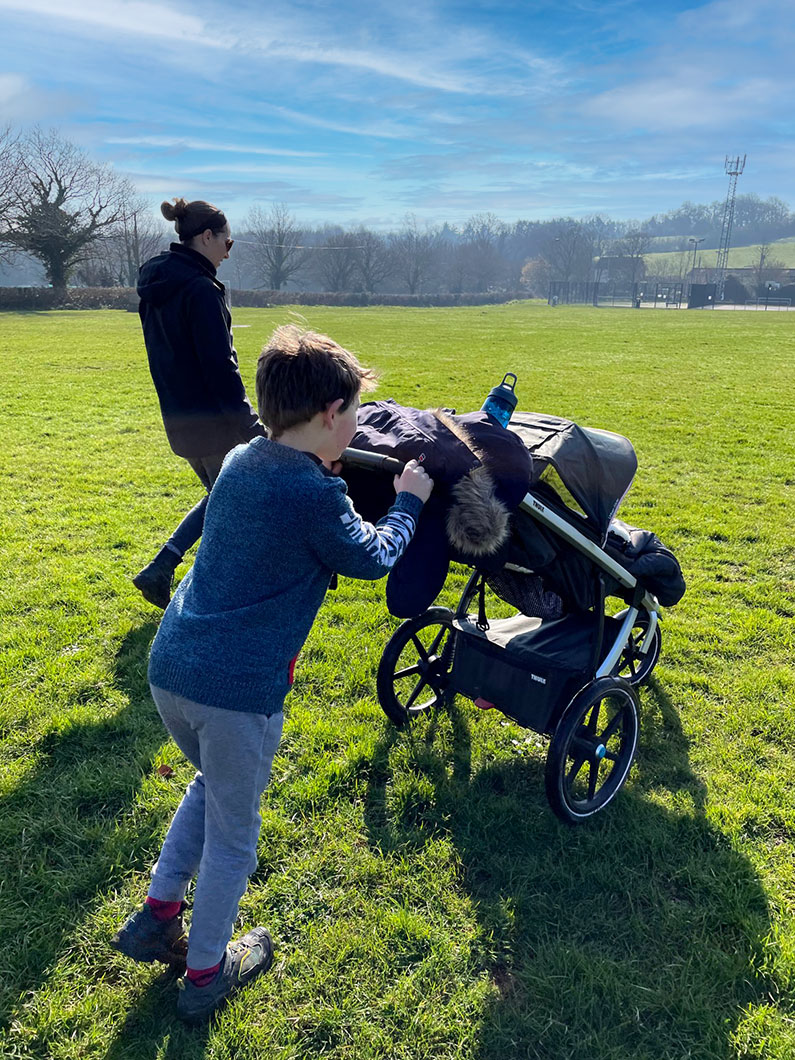 Millennium and Jubilee Woods
This little wood, 0.49 hectares (1.21 acres) in size, was planted by the community as a  millennium project. It stands on land licensed to the Stowey Green Spaces Group by Somerset County Council in 1999.
The site (formerly used for dumping rubbish) was cleared in 2000, and about 800 trees were planted in 2000/2001 by local residents.
The Diamond Jubilee Extension (0.31 hectares), to celebrate the Diamond Jubilee, was added in 2012, when land to the north and west of the original wood was planted with 300 more trees.
The wood is managed by local volunteers to maintain biodiversity and to offer wildlife habitat. Stowey Green Spaces Group is grateful to the Forestry Commission, Sedgemoor District Council, Wessex Water, Quantock Hills AONB, and the many local people who supported this community project with donations.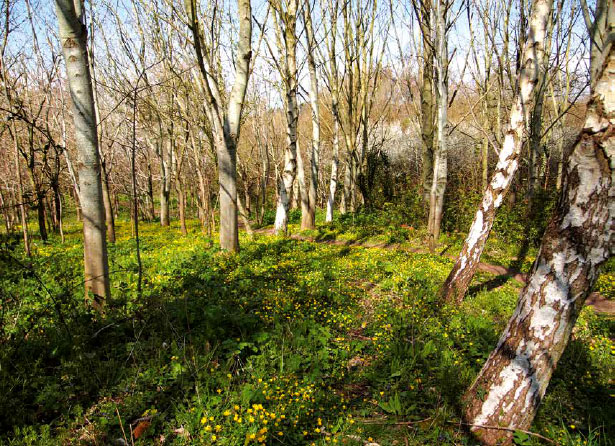 Stowey Wood is rich in wildlife throughout the year. In early spring lookout for carpets of Celandines, Bluebells, and patches of beautiful Wood Anemones alongside the upper path.
Records show that Stowey Wood dates from 1700, and maybe from even before that. Indeed, some of the plants that grow here – Opposite-leaved Golden Saxifrage, Wood Anemone, and Wild Service-tree, for instance – are indicators of Ancient Woodland.
The appearance of the wood has changed often over the years. For example, the ponds were once a quarry and an area of the wood used for hazel coppicing.
In 1970 the Forestry Commission cleared two-thirds of the wood and planted Sitka Spruce. Unfortunately, as they grew, these shaded the ground so much that it was hard for plants to survive.
From 2014 forestry students from Bridgwater College felled about half of the spruce, and in
2018 Somerset County Council licensed the management of the wood to Stowey Green Spaces Group to create a community woodland.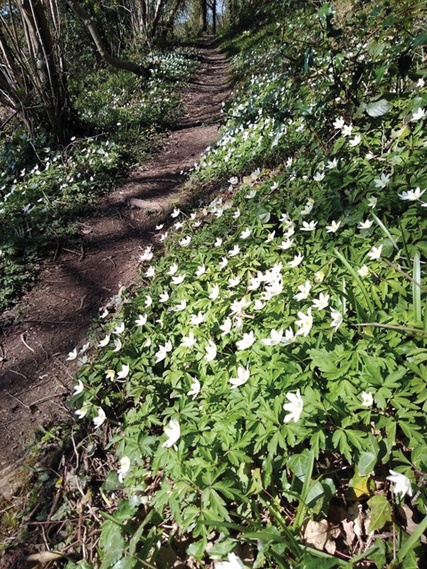 The Mount contains the remains of a Norman motte and bailey castle that is a Historic England Scheduled Monument.  
Herdwick sheep graze the area which helps to keep the bracken under control.  
Wildflowers are nectar sources for butterflies, moths and bees.  
The 360-degree view from the top of The Mount is spectacular.
The Mount is open to the public with a request to keep dogs on a lead.
Further Historic detail is available at Nether Stowey Parish Council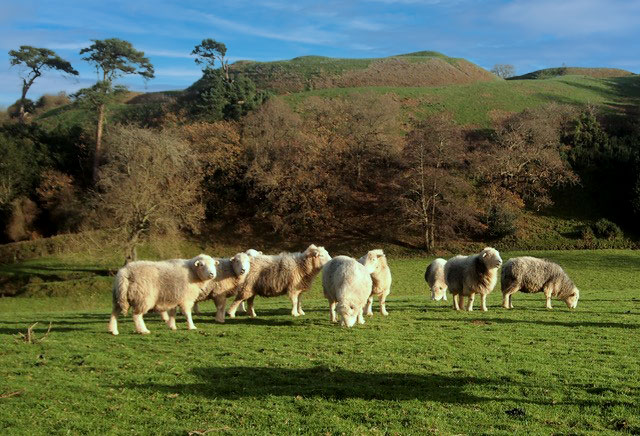 This is a popular pedestrian link between Stogursey Lane, the Village Hall, the Church Centre, the Recreation Ground, onwards to the Old A39 and across to Inwood.  The wide grass walk behind upper Lime Street has been meticulously mown for some years by one of the neighbouring residents and more recently Somerset County Council sanctioned our volunteer activity that concentrates on caring for existing and planting new trees as well as extending the grass area with wild flowers – with the occasional construction project to facilitate walking.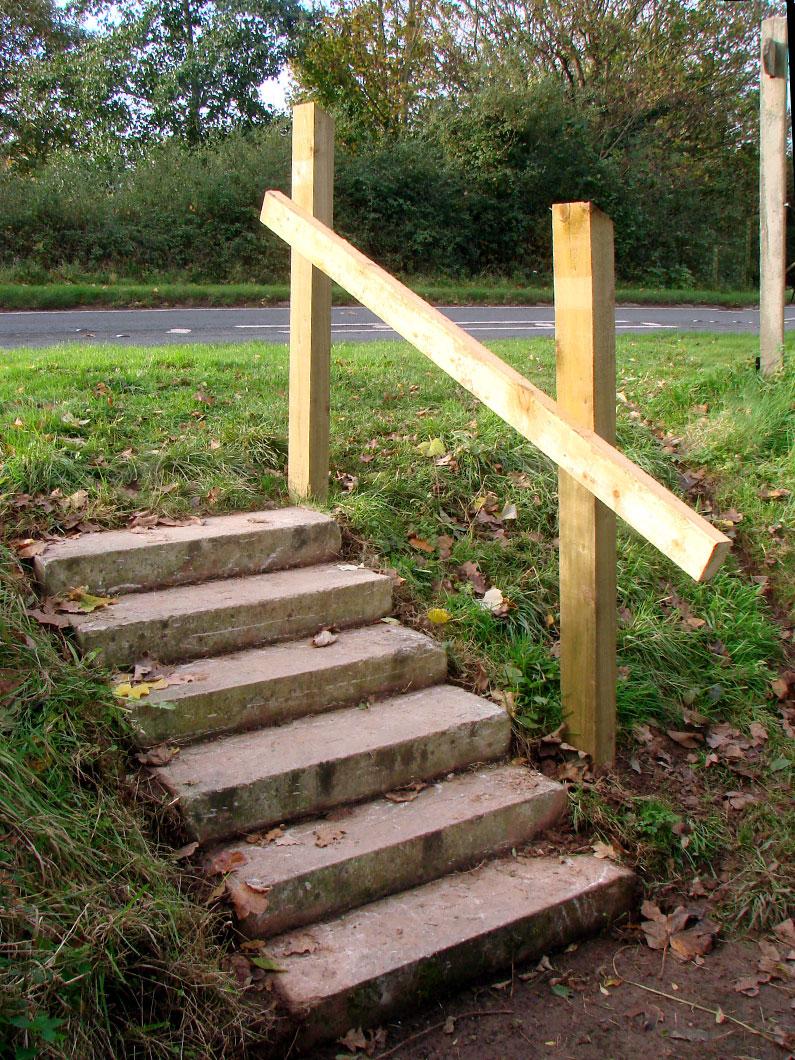 Stowey Green Spaces Committee
Our committee is dependant on volunteers to help with tree scrub clearing, litter picking and the many other tasks that keep our green spaces as a beautiful resource for our community.
Our monthly meetings are open to everyone.