Who are the Stowey Green Spaces Group?
The Stowey Green Spaces Group (SGSG) are an independently constituted community organisation that began in late 2016 as a sub-committee of the Recreation Ground. It has since developed to cover the surrounding areas' green spaces and link routes between them to maximise community interest and introduce visitors to our wider surroundings.
Members of SGSG manage Stowey Wood, Millennium Wood and the Diamond Jubilee Wood to benefit the natural environment.
We have a regular Stowey Volunteers Group working in the green spaces and a monthly Litter Pick Group – and we very much welcome new ideas and new participants!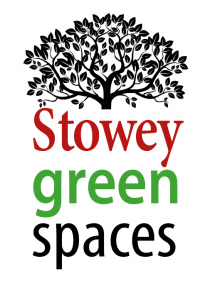 Nether Stowey Recreation Ground
Nether and Over Stoweys' Other Green Spaces
Identify, assess and help protect and enhance the natural and developed landscape and features of the landscape in the local area;
Assist in the long term management of local natural resources especially land-based;
Take a role in building awareness, educating residents and visitors at the local level about the natural environment and introducing the countryside to people who may be hesitant to 'use' it because of unfamiliarity with countryside practice;
Take on local projects to achieve the above objectives;
Gather and catalogue information on the natural environment;
Engage with local schools and colleges – the next generations – to achieve the above objectives;
Offer advice and recommendations for best management practices on public and private lands as requested;
Liaise with Nether and Over Stowey Parish Councils, AONB, SCC, SWT and others on green space issues;
Keep public areas and roadsides in and around Nether and Over Stowey clear of litter, in liaison with Sedgemoor District Council.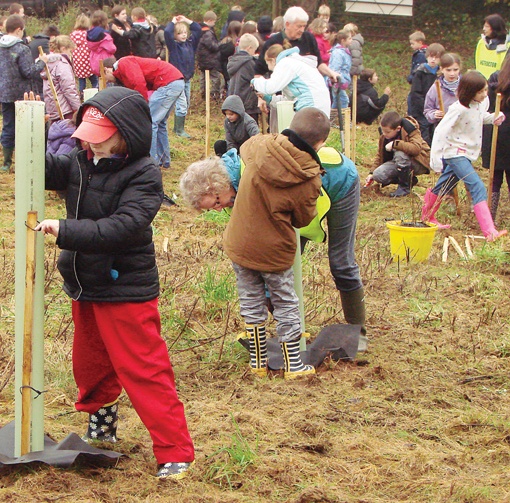 Nether Stowey Recreation Ground
Although primarily a place for sporting activities and for children to let off steam on swings and slides, the Recreation Ground is also a place for walking and quiet contemplation of the countryside and its wildlife. The open grassland, hedges, trees and distant views across farmland to the hills combine to create a stimulating landscape for all to explore.
The Recreation Ground is managed by the Nether Stowey Village Hall & Recreation Ground Charitable Incorporated Organisation.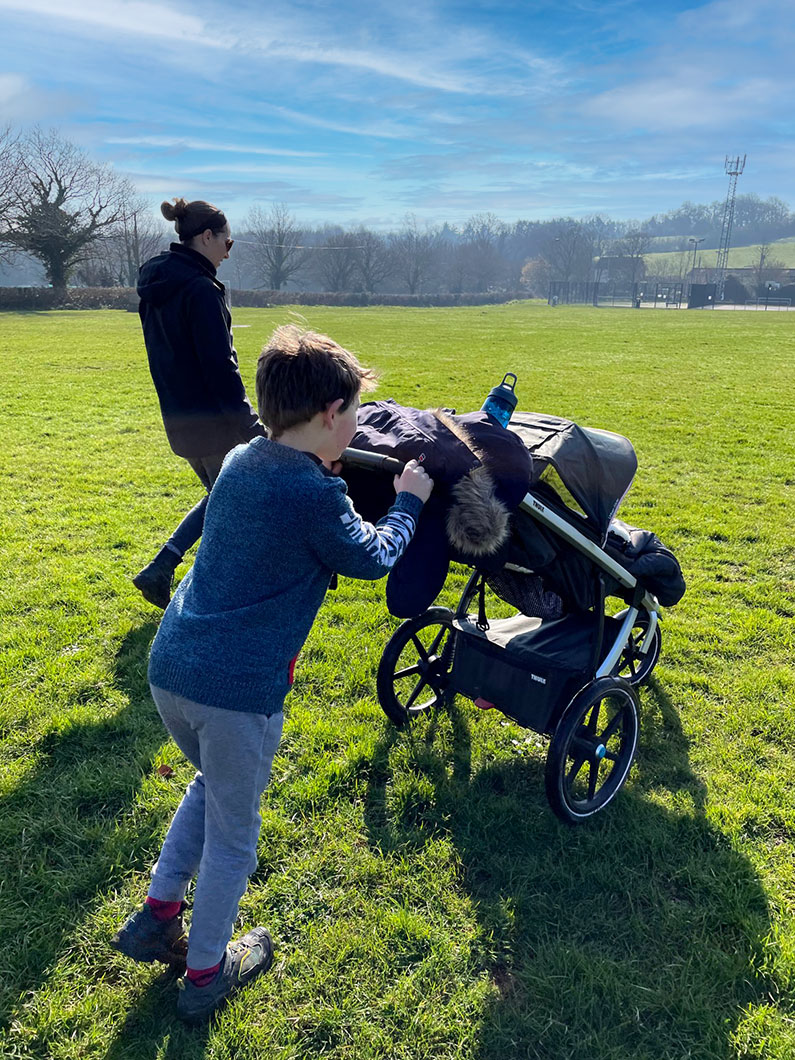 Millennium and Jubilee Woods
This little wood, 0.49 hectares (1.21 acres) in size, was planted by the community as a  millennium project. It stands on land licensed to the Stowey Green Spaces Group by Somerset County Council in 1999.
The site (formerly used for dumping rubbish) was cleared in 2000, and about 800 trees were planted in 2000/2001 by local residents.
The Diamond Jubilee Extension (0.31 hectares), to celebrate the Diamond Jubilee, was added in 2012, when land to the north and west of the original wood was planted with 300 more trees.
The wood is managed by local volunteers to maintain biodiversity and to offer wildlife habitat. Stowey Green Spaces Group is grateful to the Forestry Commission, Sedgemoor District Council, Wessex Water, Quantock Hills AONB, and the many local people who supported this community project with donations.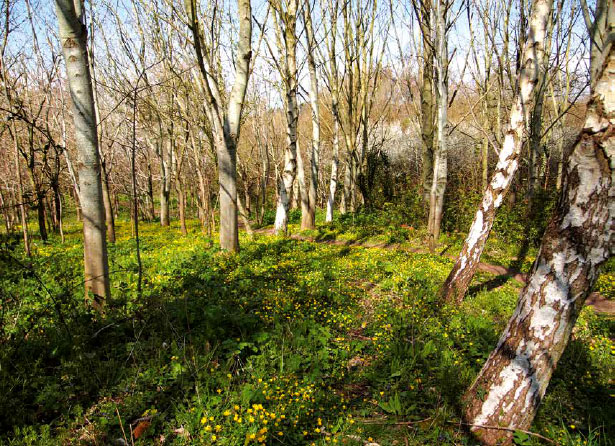 Stowey Wood is rich in wildlife throughout the year. In early spring lookout for carpets of Celandines, Bluebells, and patches of beautiful Wood Anemones alongside the upper path.
Records show that Stowey Wood dates from 1700, and maybe from even before that. Indeed, some of the plants that grow here – Opposite-leaved Golden Saxifrage, Wood Anemone, and Wild Service-tree, for instance – are indicators of Ancient Woodland.
The appearance of the wood has changed often over the years. For example, the ponds were once a quarry and an area of the wood used for hazel coppicing.
In 1970 the Forestry Commission cleared two-thirds of the wood and planted Sitka Spruce. Unfortunately, as they grew, these shaded the ground so much that it was hard for plants to survive.
From 2014 forestry students from Bridgwater College felled about half of the spruce, and in
2018 Somerset County Council licensed the management of the wood to Stowey Green Spaces Group to create a community woodland.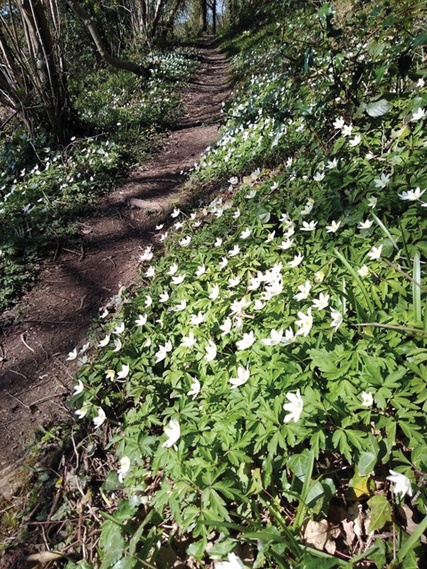 The Mount contains the remains of a Norman motte and bailey castle that is a Historic England Scheduled Monument.  
Herdwick sheep graze the area which helps to keep the bracken under control.  
Wildflowers are nectar sources for butterflies, moths and bees.  
The 360-degree view from the top of The Mount is spectacular.
The Mount is open to the public with a request to keep dogs on a lead.
Further Historic detail is available at Nether Stowey Parish Council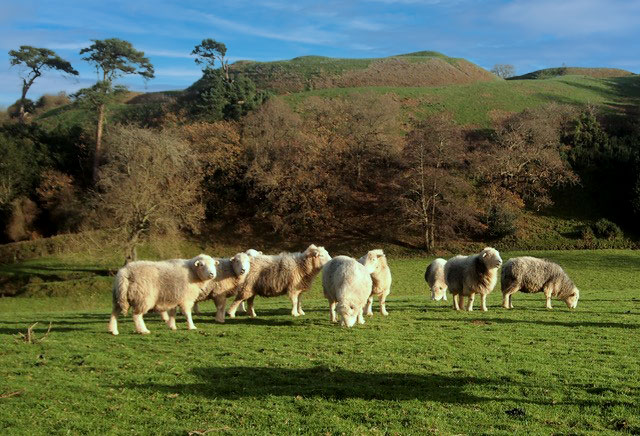 The volunteers who work tirelessly to keep the Stowey Green Spaces in good shape and accessible are vital to our work.
They usually work in groups undertaking a variety of essential tasks, litter picking, scrub clearing path repairs.
It is sometimes hard graft but always fun with plenty of banter with friends.
If you would like to volunteer please email stoweygreenspaces@stowey.org.uk
Stowey Green Spaces Committee
We are lucky to have so many volunteers helping with tree scrub clearing, litter picking and the many other tasks that keep our green spaces as a beautiful resource for our community.
It is all managed by a wonderful group who form the committee.